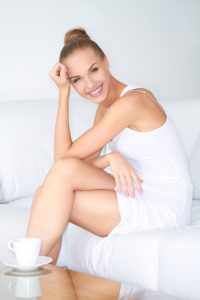 If you're a Corpus Christi resident interested in eliminating fine lines and sunken skin with a dermal filler, you may have heard that Corpus Christi Dr. Rose of Rose Cosmetic Surgery Center frequently uses Radiesse to treat such facial deficiencies. And you may be wondering, "What's so special about Radiesse? How is it different from other dermal fillers?" Read on to learn more about Radiesse, and why you should consider it for filling in your fine lines, especially those around your nose and mouth, filling in your sunken cheeks and re-contouring areas of your face including your jawline and your nose.
What is Radiesse?
Radiesse is an FDA-approved dermal filler that has been used in cosmetic surgery for about a decade but also has been used in dental and orthopedic settings for decades longer. On the technical side, Radiesse is a calcium hydroxyapatite based dermal filler that uses bone shaped microspheres that are suspended in a liquid-like, carboxymethylcellulose gel. What this means to you, as a potential Corpus Christi Radiesse user, is that since Radiesse is comprised of materials naturally found in the body, you won't need an allergy test before proceeding with a Radiesse treatment. Additionally, while Radiesse stimulates the production of collagen, similar to other dermal fillers, unlike many other dermal fillers it can be molded and shaped to re-contour and provide definition to the face, too. In fact, many Corpus Christi patients turn to Radiesse as an alternative to facial implants
What is Radiesse Used For?
Corpus Christi patients use Radiesse for a number of reasons, including:
To fill in nasolabial folds, or the wrinkles that appear from your nose to your mouth;
To fill in volume loss in the cheeks;
To lift acne scars;
To reshape the jaw line; and
To recontour the nose.
How Long Does Radiesse Last?
If you've researched dermal fillers, you know that most do not last a lifetime, and require multiple injections over time. Radiesse, however, is one of the longer lasting dermal fillers, and can last up to a year or 18 months, and maybe even longer. Corpus Christi Radiesse patients love the dermal filler because of its long-lasting effects, and the feeling that they are getting the biggest benefit out of every injection.
How Much Radiesse Will I Need to Use to Treat My Face?
After a consultation with Dr. Rose of the Corpus Christi Rose Cosmetic Surgery Center, you'll have a better idea of how much Radiesse will be needed to treat your unique case.  Every patient is different however most cases of volume loss can be treated with just one syringe.
How Can I Learn More About Radiesse?
If you think you have the type of facial issues that Radiesse can treat, you're probably wondering where you can find out more about this dermal filler. And while researching on the Internet can be a great starting point, the best way to learn about a potential treatment is in consultation with a skilled plastic surgeon.
To learn more about Radiesse treatments in Corpus Christi, schedule a consultation with Dr. Rose of Rose Cosmetic Surgery by calling (361) 651-1200.