Get a more youthful, rested, and alert appearance with an aesthetic procedure that rejuvenates the eyelids. Rather than creating dramatic change, blepharoplasty can help you look like a more refreshed version of yourself. While it can be combined with other facial procedures, a standalone eyelid lift at Rose Cosmetic Surgery can yield excellent improvement for many patients. Dr. Keith Rose leverages his experience from more than 3,000 facial procedures when he conducts blepharoplasty for Corpus Christi patients.
Both men and women benefit from the procedure, in which he makes subtle revisions that eliminate signs of aging and fatigue. Rely on his skill, personal commitment to patient care, and understanding of natural aesthetics for outstanding results in your blepharoplasty procedure.
See the Difference with Blepharoplasty
Blepharoplasty can make a major improvement in aesthetics even though it is limited to one specific facial feature. That's because people often associate eyes with physical identity, so any change can significantly alter the way others perceive you.
Some of the results Dr. Rose produces through surgery include:
Firmer eyelid skin without significant sag.
Lower and upper eyelids that aren't baggy or puffy.
Repair of "droopy" eyelids.
Dr. Rose makes a variety of adjustments to get these results, including removing fatty deposits and getting rid of unwanted excess skin. The approach he uses in your case will be specific to your goals and needs.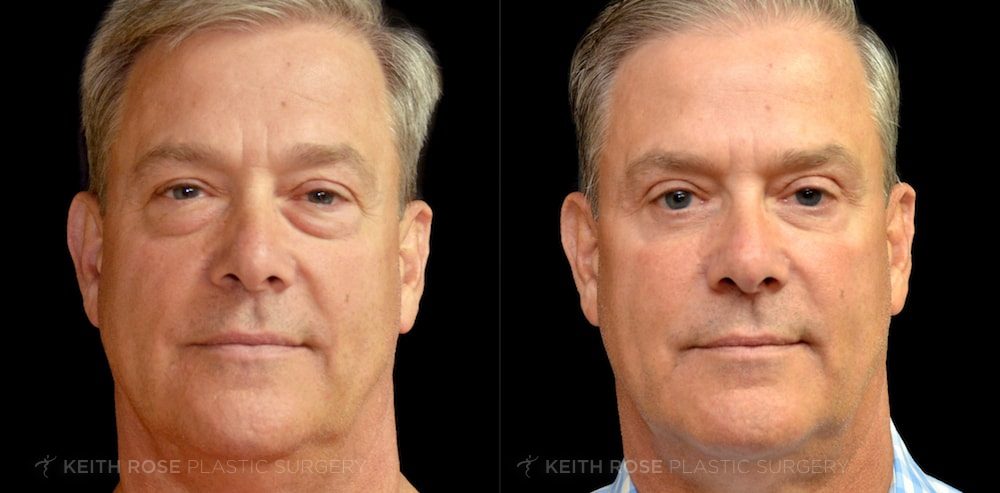 Planning for Your Blepharoplasty
Corpus Christi patients visit Dr. Rose's practice for an initial consultation to talk about what they want to accomplish and to learn more about the procedure. You may come in knowing that you want a procedure that targets the eyelids, or you may simply want to talk about ways to look more youthful, rested, and alert. Dr. Rose can help you identify areas to target and options for your treatment.
During your visit, Dr. Rose will examine your eyelids and discuss your health history. He'll note any concerns and ensure that you are a good candidate for blepharoplasty or other procedures you may consider.
As part of your consultation, you may want to talk about other goals beyond improving the appearance of your eyelids. Dr. Rose can combine blepharoplasty with additional surgeries, including facelift and neck lift. The benefits of a single surgical session are a shorter overall recovery time and more comprehensive aesthetic improvement.
Your Experience with Blepharoplasty
Most Corpus Christi patients have their blepharoplasty at our state-of-the-art operating facility. Dr. Rose and our staff combine excellent medical resources with attentive care that prioritizes safety and comfort.
Blepharoplasty surgery usually lasts 1 to 2 hours depending on several factors, including whether Dr. Rose is working on the upper lids, lower lids, or both. After the procedure, you can expect to take a few days off from work and normal daily activities. Most patients resume their normal daily activities within a week. After 3 weeks, patients can begin light exercise progressing to regular exercise by 6 weeks.
By the end of your recovery, you should see a significant improvement in the aesthetics of your eyes and eyelids. Just as importantly, a more youthful and rested appearance should help you look the way you feel.
Restore your eyes to a younger-looking, more alert condition at Rose Cosmetic Surgery. Schedule a consultation about blepharoplasty with our Corpus Christi office. Contact us online or call (361) 651-1200 today!