You can have a tighter, slimmer body with a single, minimally-invasive procedure. Dr. Keith Rose offers Corpus Christi liposuction that selectively breaks up fat with almost no impact on the surrounding tissue. It's an ideal approach for men and women who want a firmer, fitter figure in areas of the body that may not improve with diet and exercise.
Dr. Rose can eliminate both small and large pockets of fat in areas such as:
Patients choose Dr. Rose because of his extensive aesthetic experience, attention to detail in emerging liposuction technologies. These qualities help him eliminate stubborn pockets of fat and create more beautifully sculpted features.
An Advanced Approach to Body Definition
Liposuction is an excellent procedure for Corpus Christi patients who are in generally good shape but have areas of fat that they want to reduce. Men often opt for liposuction to get a more sculpted abdomen and removal of their "love handles" or back fat. Women choose the procedure for fitter-looking thighs, a sexier back, a trimmer belly, and other benefits.
In addition to traditional tumescent liposuction, Dr. Rose can provide patients with VASER® Lipo, a more precise technology that allows for better contour sculpting. VASER® Lipo employs ultrasonic waves to break down fat. The procedure also assists in tightening the skin and because there is less blood loss, it can improve recovery times as well.
Dr. Rose can also use liposuction as part of:
Tummy tuck surgery. Combining the procedures can give you a more sculpted appearance.
Fat harvesting. Dr. Rose can use liposuction to add natural volume to the face or buttocks.
Breast implant concerns. Dr. Rose can use harvested fat to improve areas that require volume.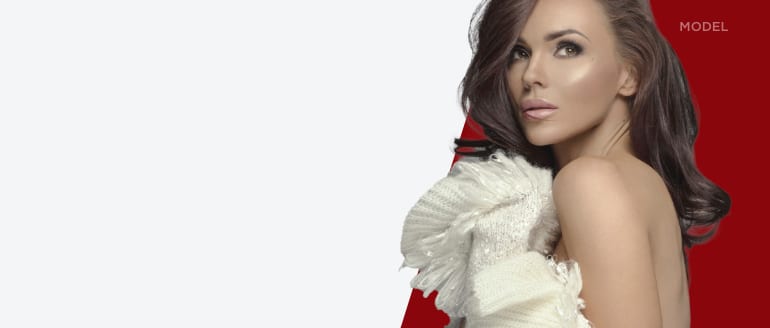 Slim down and increase your breast size, too!
GET A MOMMY MAKEOVER
It only takes one surgery to get the body of your dreams!
Getting the Body You Want
Start with a consultation at our practice. It's both a great opportunity to explore liposuction and to get to know your aesthetic team. Dr. Rose and our staff prioritize individual attention and high-quality procedures, and you can expect to receive excellent care in our facility's intimate, professional setting.
During your visit with Dr. Rose, you'll have the time to ask questions about liposuction, talk about what you want to achieve, and learn more about his approach. You can also review before-and-after images of patients who had similar goals to your own.
Get Rid of Fat with Liposuction
Stubborn pockets of fat plague many men and women. And after years of trying every diet and exercise regimen in the book, oftentimes, those pockets of fat will not go away. If this sounds like an issue you are facing, call Dr. Rose today to find out how liposuction can help you achieve your goals!
Your Experience in Dr. Rose's Care
Dr. Rose conducts liposuction at a local Corpus Christi hospital or at our facility, which is equipped with state-of-the-art operating and recovery rooms. Procedures in our practice take place under conscious sedation, which patients may prefer because it does not have the same post-surgical effects that general anesthesia has.
Your liposuction should last from 1 to 4 hours depending on the area Dr. Rose is targeting. After the procedure, most patients take about 1 week off from work and 3 – 6 weeks off for exercise, and heavy lifting. Dr. Rose and our staff can offer you guidelines for a more comfortable recovery.
You'll see the results of liposuction once swelling from surgery subsides. For most patients, this outcome is a tighter, sleeker contour in the area of treatment and a fitter-looking appearance.
Eliminate unwanted areas of fat for greater definition and a slimmer appearance. Schedule your liposculpture consultation with our Corpus Christi office by calling (361) 651-1200.