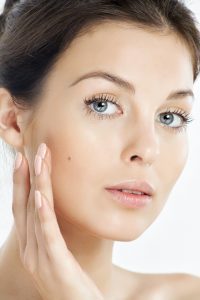 Many residents have heard of Juvederm, the hyaluronic acid dermal filler that Corpus Christi's Rose Cosmetic Surgery Center uses to treat nasolabial lines (the "parenthesis" wrinkles that appear between the nose and mouth when you are not smiling), plump up the lips to a more feminine form, and restore lost volume to the cheeks. But for those Corpus Christi patients who are interested in a liquid facelift – a non-surgical facelift using dermal fillers – or treating multiple areas of the face, they often wonder, "Can Juvederm be combined with other dermal fillers?" Read on as Dr. Rose answers this common question.
Using Multiple Dermal Fillers at the Same Time
If you are looking to treat multiple different areas of your face during one dermal filler session, you can use Juvederm and other dermal fillers on different facial problem areas. Doing so is commonly referred to as getting a liquid facelift, and is a popular procedure. However, Juvederm and other dermal fillers should not be mixed together, or used simultaneously, on the same facial problem areas during the same dermal filler treatment session. Doing so could cause a variety of complications as the materials of the different dermal fillers mix, thus potentially causing less than aesthetically pleasing outcomes.
How Do I know if Juvederm is the Right Dermal Filler for My Facial Problem Areas?
If you're considering a liquid facelift and using multiple dermal fillers on different parts of the face, you may be wondering if Juvederm is one of the dermal fillers that you should select for your specific case. While only a consultation, facial examination, and discussion of your desired results with Dr. Rose can provide certainty to this question, generally speaking, you are a good candidate for Juvederm if you:
Have an adequate skin envelope without too much laxity
Have volume loss in your cheeks or lips with prominent nasolabial folds
Will be satisfied with results that will last approximately 6 to 8 months before requiring subsequent injections (the length of time that Juvederm treatments typically last);
Are in good general health;
Have no history of allergic reactions to either Gram-positive bacterial proteins or lidocaine. Lidocaine is sometimes included in Juvederm to help numb the injection sites;
Have realistic expectations for your results; and
Are in good psychological health.
How Can I Learn More About Juvederm?
Reading about Juvederm online can be a good way to collect some basic facts about the dermal filler and generate a list of questions to ask Dr. Rose. But you'll only get all your medical questions answered by consulting with Dr. Rose of Corpus Christi's Rose Cosmetic Surgery Center. During your initial consultation with Dr. Rose, he will discuss Juvederm with you, its benefits and pros and cons of a filler and what to expect during your treatment experience.  He'll also examine your facial problem areas and listen to your concerns and desired results to confirm that Juvederm can give you the new look you want. If other products of procedures would give you your desired facial aesthetic, he will let you know.
To schedule a consultation with Dr. Rose to talk about Juvederm, call his Corpus Christi office today at (361) 651-1200.