Some people resign themselves to growing old. We say, "Look great at any age." But for patients who want a more youthful appearance, Dr. Keith Rose helps women and men achieve this goal, whether they're in their forties or their eighties. An experienced surgeon with an artist's eye, Dr. Rose offers Corpus Christi facelift patients attractive, rejuvenated results at Rose Cosmetic Surgery.
Instead of looking "different," many patients prefer to look better. Dr. Rose focuses on subtle changes that appear natural. His extensive work in the field and his attention to detail combine to deliver this outcome. Find out more about what's possible at Rose Cosmetic Surgery and what you can expect with facelift surgery.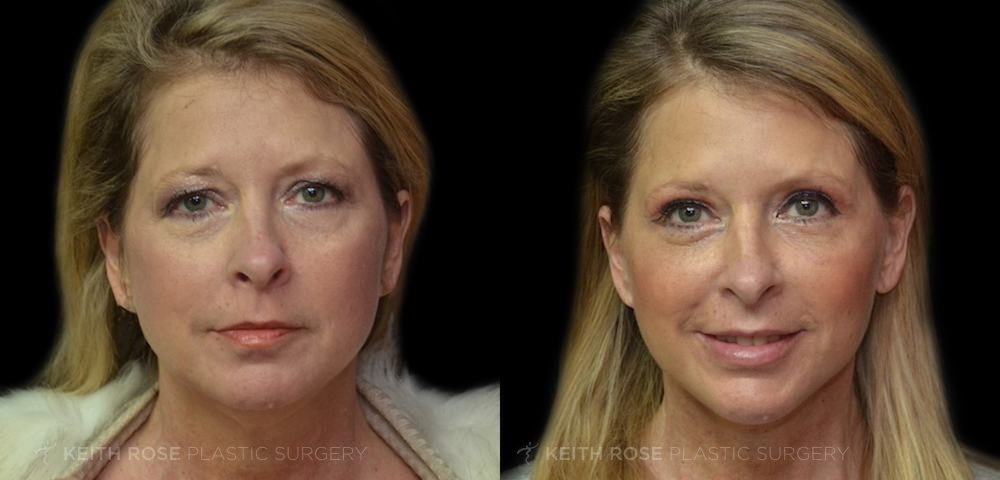 Facelifts: Smoother, Softer, Younger.
During your consultation, Dr. Rose and his team at Rose Cosmetic Surgery will encourage you to talk about how you'd like to look and which features you want to address. He'll also review whether you are a good candidate for a facelift. Some Corpus Christi patients begin instead with our Beauty Maintenance Program and skin care treatments, while others are ready for a surgical approach.
Though Dr. Rose tailors every procedure to the patient's needs, here are some of the hallmarks of a younger-looking face:
Your appearance should be firm but not overly tight.
Your features should be well-defined without a significant excess or sagging of skin.
There should be no noticeable transition of age from the face to the neck.
Since the goal is the most natural-looking and attractive result possible, most facelifts at Rose Cosmetic Surgery include a neck lift as well. He may also recommend a fat graft to add volume in areas that have lost fullness over time. In fact, facelifts can be combined with several other facial cosmetic surgeries, including:
Another option for some patients is a mini-facelift. This procedure is a less-invasive, less drastic alternative to the traditional full facelift. A mini-facelift is ideal for younger patients looking to keep the initial signs of aging at bay.
Whether you are a good candidate for a facelift or mini-facelift, Dr. Rose will follow a surgical approach based on your individual goals.
Reduce Wrinkles with a Facelift
Do you have signs of aging on your face that are causing you to look older than you feel? Deep wrinkles, sagging skin, and lost volume are some of the most common signs that you may need to consider a facelift. Call Dr. Rose today to find out how this procedure can change your life!
Your Experience with Facelift
Dr. Rose typically performs facelift procedures in our Corpus Christi surgery center using conscious sedation. Conducting operations in our state of the art facility allows the team at Rose Cosmetic Surgery to provide high-quality care, and patients typically appreciate the private, caring environment of our practice.
Your facelift can take anywhere from 4-6 hours depending on the approach that you and Dr. Rose discussed in your initial consultation. Expect at least one week away from work and 3 weeks until moderate exercise and physical activity. Our medical team will advise you about other guidelines to make your recovery as comfortable as possible.
Committed to Your Best Self
Part of choosing a surgeon for your facelift is picking a provider who can offer an excellent experience and great-looking results. Just as important is selecting someone who is dedicated to your ongoing care.
A facelift can restore your appearance to a younger state, but the steps you take after surgery help you get the most from your procedure. You want to look amazing now, next week, and every day that follows. You deserve a surgeon who is committed to that same long-term goal.
Dr. Rose takes a patients-first approach. A Texas-trained surgeon who has spent years supporting patients in our community, he and our staff see your care as part of a continuing relationship. Dr. Rose can advise you strategically on cosmetic treatment and plastic surgery, helping you look great today, tomorrow, and for years to come.
If your goal is smoother, softer, and younger-looking features, a facelift from Rose Cosmetic Surgery may be right for you. Schedule a consultation with Dr. Rose in our Corpus Christi office by using our online form or by calling (361) 651-1200.