Men with enlarged breasts who aren't comfortable with the way they look in a tight t-shirt or can't enjoy the sun, swimming, or summer, often seek a cosmetic surgical option to end their stigma. Dr. Keith Rose has years of experience providing Corpus Christi patients with male breast reduction. He is one of the only plastic surgeons in South Texas who use advanced VASER® technology for the procedure, which provides more aesthetically appealing results and offers a faster recovery.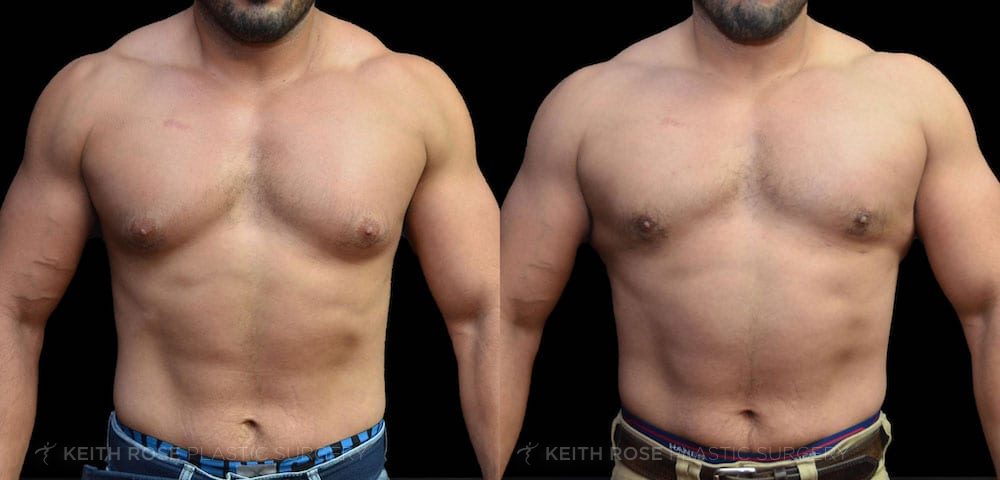 Male breast reduction (gynecomastia surgery) results in your physique looking firmer and more masculine. The procedure eliminates small cones of breast tissue that can give your chest a feminine appearance. After surgery, the resulting contour of the chest reveals a more masculine, sculpted appearance in a t-shirt or no shirt at all.
Dr. Rose's patients often tell him they would have had treatment for gynecomastia sooner had they known the benefits that it would provide. Male breast reduction only requires a single, minimally invasive procedure and offers predictable outcomes. If you're ready to make a change, Dr. Rose's approach may be right for you.
Have the Body You Want With Male Breast Reduction
Men with gynecomastia, or enlarged breast tissue, frequently feel embarrassed in situations where they have to remove their shirt. They are worried about being "that guy" who never takes off a shirt at the pool or who refuses to wear form-fitting clothes. If you have been dealing with these challenges, you aren't alone. Men often have some degree of excess fat and glandular tissue that makes their breasts larger. Whether due to genetics, taking certain medications, or other reasons, these conditions don't always improve with diet and exercise.
Gynecomastia is common, but there is a solution. Male breast reduction is an effective approach to eliminating gynecomastia and sculpting a more masculine appearance. In the gynecomastia treatment, Dr. Rose removes the excess breast and the cone-like fatty tissue. The aesthetic result is:
A flat chest that shapes to your muscles.
Removal of embarrassing "breast buds"
A masculine contour.
The procedure will provide immediate improvement and greater confidence in your appearance. As a skilled plastic surgeon, Dr. Rose brings years of experience and an artist's eye to create results that look natural, attractive, and in line with your goals.
Exploring Gynecomastia Surgery
Start by visiting Dr. Rose's practice in Corpus Christi for an initial consultation. He offers a professional and private setting for you to discuss your options with gynecomastia. Dr. Rose will discuss what you want to accomplish with male breast reduction, learn about your health history, conduct an examination, and recommend a surgical approach.
Your consultation will give you the opportunity to find out more about the procedure and to discuss the treatment plan. Dr. Rose and his staff encourage you to ask questions at any point in the process; understanding your concern and reaching your goals are the cornerstone of Dr. Rose's practice.
Liposuction. With the rapid advances in liposuction technology, men can now get highly refined results from the procedure. Dr. Rose offers VASER®, an approach that precisely targets fat and excessive breast tissue with ultrasonic waves. VASER also heats the underlying skin, facilitating contraction of the skin with beautiful results and almost no scarring.
Excision. If there is an unusual excess of skin and breast tissue affecting the contour of your chest, Dr. Rose can sculpt a flatter, more masculine appearance through surgical excision.  Residual scarring typically heals well and becomes less noticeable over time. Excision can be combined with liposuction for a more dramatic result.
The Benefits of VASER for Male Breast Reduction
VASER is a minimally invasive ultrasound technology designed for removing fatty tissue. This approach is much more effective than traditional liposuction and does not create noticeable scars or require significant excision. VASER also allows for a more sculpted appearance and faster recovery time. Dr. Rose is one of the few plastic surgeons in South Texas that offer this technology.
VASER works by using ultrasound waves to break apart fat in a smooth and even plane. The treatment is tissue-selective, meaning VASER affects fat without damaging other tissues. This allows Dr. Rose to:
Sculpt the chest with greater precision.
Accentuate the appearance of the muscles.
Contract the skin to remove gynecomastia more completely.
VASER provides male breast reduction patients in Corpus Christi several advantages over other types of liposuction:
Aesthetic appeal. Traditional liposuction uses a suctioning probe to break up and take away fat. However, male breast tissue can be fibrous and dense, so the traditional approach may not remove the fat and breast tissue effectively. VASER can produce results that are much smoother, sculpted, and well-contoured.
Greater comfort and faster healing. VASER liposuction focuses its energy on fatty tissue and works in an even field of effect. These features mean that VASER significantly decreases bruising and recovery time compared to the pushing and pulling action in traditional liposuction.
Combined with Dr. Rose's extensive training and experience as a plastic surgeon and eye for aesthetic detail, VASER will help eliminate excess breast tissue and give you a firmer, fitter appearance.
Your Experience with Male Breast Reduction
Your procedure will take place at either a local Corpus Christi hospital or Dr. Rose's surgical facility. He has equipped his offices with state-of-the-art operating and recovery rooms to provide you with the highest level of care. As a patient, you can expect Dr. Rose and our medical team to give you attentive support throughout your gynecomastia treatment.
Male breast reduction surgery is an outpatient procedure that takes about two hours. The total time for treating gynecomastia will vary depending on your needs and the techniques that Dr. Rose uses. After your surgery, expect to take a few days off from work and three weeks away from heavy exercise. In addition to wearing a post-operative pressure garment, proper rest and care will help the site heal more quickly and ensure desirable aesthetic results.
Following your recovery, you should immediately see a more defined and masculine physique. Corpus Christi patients tell us they feel more confident about their appearance and comfortable at the beach, playing sports, and in romantic situations. There is no greater feeling than being able to fully experience life!
Try Male Breast Reduction with Dr. Keith Rose
You can have the physique and confidence you've always wanted with this minimally invasive and immediately effective procedure. Schedule a consultation for male breast reduction with our Corpus Christi office. Call (361) 651-1200.