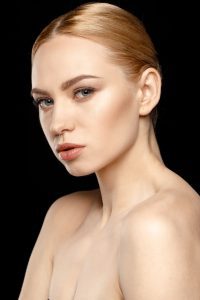 Every year, many Corpus Christi patients come to Dr. Rose of Rose Cosmetic Surgery Center with questions about Juvederm, the popular hyaluronic acid dermal filler. And one of the most popular questions that Dr. Rose is asked is, "How soon will I be able to see my Juvederm results?" The good news for Corpus Christi patients is that Juvederm results are seen immediately, though some Corpus Christi patients may appear temporarily plumper due to swelling. But after about a week, once your facial swelling has subsided, you will see your final Juvederm results!
The immediate results experienced by Corpus Christi Juvederm patients is one of the reasons that the dermal filler is so popular at Rose Cosmetic Surgery Center. Dr. Rose often uses Juvederm to treat nasolabial lines (the "parenthesis" lines that appear between the nose and the mouth when you are not smiling"), fill in sunken cheeks and plump up and provide a more feminine appearance to thin lips. Juvederm treatments last about 6 to 8 months, though repeat Corpus Christi Juvederm patients find that they need less Juvederm for subsequent injections.
What Makes Me a Good Candidate for Juvederm?
There are several factors that make you a good candidate for Juvederm, including:
Having deep nasolabial folds that you want erased;
Having sunken cheeks to which you want to add volume;
Having lips that you want to plump up;
Having no history of allergic reactions to Gram-positive bacterial proteins or lidocaine, which is included in some syringes of Juvederm to providing numbing at the injection site;
Being in general good health, and not being pregnant or breastfeeding;
Having realistic expectations for your results; and
Being in good psychological health.
How Can I Learn More About Juvederm?
Dr. Rose of Rose Cosmetic Surgery Center finds that many of his Corpus Christi patients initially research Juvederm on the Internet. And while it's great to Google and try to satisfy your curiosity about the dermal filler, only a conversation with a skilled plastic surgeon like Corpus Christi's Dr. Rose will provide you with all the correct, medical answers to your questions. If you are wondering if Juvederm is a good treatment option for your facial issues or signs of aging, the best thing that you can do is call Rose Cosmetic Surgery Center to schedule a consultation with Dr. Rose at (361) 651-1200.
During an initial consultation with Dr. Rose about Juvederm, he will conduct a full facial examination to determine if your wrinkles, thin lips or sunken cheeks can be treated by the popular dermal filler. He will also explain the injection process to you, including the numbing procedures included with Juvederm injections, and the recovery process. Typically, Juvederm patients can return to their normal activities the same day as their treatment, though they are cautioned to avoid strenuous exercise, long exposure to the sun or heat, or alcohol consumption for a day or two. Corpus Christi Juvederm patients may also experience swelling and slight bruising after their treatment.
If you think Juvederm might be right for you, don't delay. Call Dr. Rose today to get one step closer to gaining a more youthful appearance.